Hi, I'm Huyen
Our work (and this site) is devoted to sharing ideas, tools and resources that will help you automate, grow and scale your practice.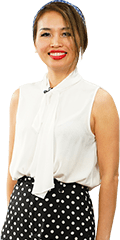 Dec 16th, 2020
Guest Interview With Christy Xuan – Founder of Lumiere Beauty Clinic.
In this special episode, we have a special guest on our OMD TV show Ms Christy Xuan -the young, successful female clinic owner and entrepreneur who founded Lumiere Beauty Clinic.
Christy founded Lumière Beauty Clinic around 3 years ago and it's been growing incredibly fast ever since, with over 20 staff members (including doctors, surgeons and beauty therapists), achieving an annual growth rate of 100%. 
The clinic is currently adding new locations and planning a franchising model as well. Christy has a really insightful story to share about the strategies and ways that she was able to rapidly build and grow her business.
Therefore Christy has got a really exciting story to share with us. In this special podcast episode we're going to talk about:
How

Lumière

Beauty Clinic can generate 1000 patient visits a month

What is the $20K marketing mistake that you want to avoid

How she succeeds in managing a cosmetic surgery clinic in her 30s, without having a medical background

The key elements that helped Christy to scale her clinic fast

What are her most successful techniques for generating new patients

How to efficiently manage a work life balance.

Expert advice for those thinking of starting and scaling a cosmetic surgery clinic.
This is a not-to-be missed interview podcast, for anyone trying to better understand how to grow and scale their business. If you'd prefer to listen to the audio version, please check out the podcast below. 🙏
Show Note:
If you want to learn more about driving more of your ideal patients into your sales funnels using targeted messages and hooks, make sure to attend our webinar called "The 3 Must-Use Strategies to Generate More New Patients and Referrals on Autopilot."  
Sign up for the webinar here: https://onlinemarketingfordoctors.com/sales-funnel-webinar/
IF YOU WANT TO DIVE DEEPER INTO OUR WORLD, THESE LINKS LEAD THE WAY